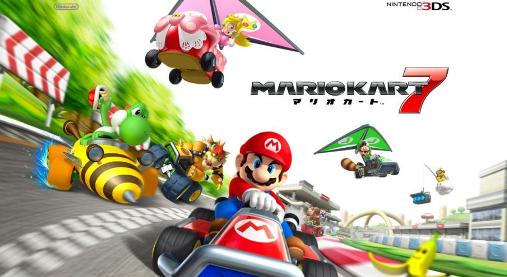 Fighting back hard against less-than-stellar 3DS sales, Nintendo is getting ready to release the next installment in the hugely popular Mario Kart series. Set to go on sale December first in Japan and December fourth in North America, Mario Kart 7 is sticking to what made the series such a success.
The Japanese website has recently been updated with preview videos for 18 race courses, and the game should have at least 38 courses when it arrives in stores. About half the tracks are updates and remakes from previous games, going all the way back to the Super Nintendo original. Featuring at least 16 characters, with the ability to add your own Mii avatar to the line-up, the roster has all the bases covered. The karts are fully customizable this time around, with the ability to purchase upgrades, like hang-glider wings and monster-truck tires, by collecting coins on the race course. All the classic items are available, and a nod goes to Super Mario 3D Land with the inclusion of the tanooki tail. And, of course, local and online multiplayer are ready for the true test of Mario Kart skill.
If past entries in the series are anything to go by, expect Mario Kart 7 to be a strong purchase for any 3DS owner.
You can follow any responses to this entry through the RSS 2.0 feed. You can leave a response, or trackback from your own site.