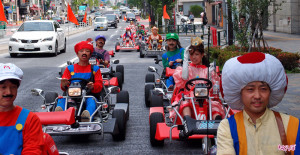 Those of you that have always wanted to try Mario Kart in real life (I presume that's pretty much everyone), need wait no longer.
Real life Mario Kart racing is now available around Akihabara. Drivers are able to discuss their choice of character with organizers who then try and allocate everyone someone they like. Training is given, although since they are driving on the road a proper driving license is required. The racing itself lasts over two hours though racers can always pick up a drive-through if they find themselves flagging.
Items, such as bananas and shells are provided although the precise details of their use remains a mystery. Racers go from Akihabara to Shinjuku before finishing in Shibuya. If you manage to book a place at this event expect a lot of interest from tourists.
UPDATE:
It is now possible to book tickets to this event in English and we'd appreciate it very much if you did so via our affiliate link: here
You can also book a range of other activities in Tokyo, (some of which are mildly NSFW), here.
You can follow any responses to this entry through the RSS 2.0 feed. You can leave a response, or trackback from your own site.