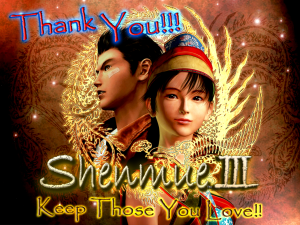 Shenmue III, the long awaited finale to the Shenmue series has been given the green light, following a successful Kickstarter campaign. Over six million dollars was raised by almost 70,000 supporters breaking the record for a video game.
Fans have been demanding a sequel for years, but for a long time it looked like it wouldn't happen. Shenmue II was released in 2001, but the first two games were commercial failures and didn't recoup their development costs.
Series creator Yu Suzuki will lead the project and protagonist Ryo Hazuki will again be voiced by Corey Marshall and Masaya Matsukaze in the English and Japanese versions of the game.
Shenmue III is pencilled in for a 2017 release and will launch on PC and PS4.
You can follow any responses to this entry through the RSS 2.0 feed. You can leave a response, or trackback from your own site.