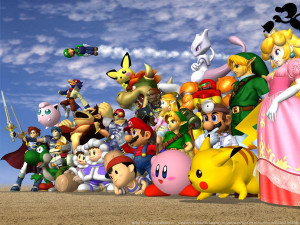 When word spread last year that Nintendo was dipping its toes into mobile markets, fans were absolutely delighted. The expectation was that we might get a gaming experience based on one of the company's iconic characters or properties that could be downloaded onto mobile devices. Indeed, one has to imagine Nintendo could make an absolute fortune by expanding some of its most beloved titles to mobile. It all seemed inevitable.
Then Nintendo came out with Miitomo, a bizarre social app that has to be one of the bigger letdowns in Nintendo history. As Forbes put it, the app "disappoints and baffles" with its apparent desire to take on Facebook rather than produce a real gaming experience. In Miitomo, your task is to create a "Mii" avatar (you know, like you did when you first turned on your old Nintendo Wii back in 2006), and then answer questions about yourself. Your Mii then interacts with your friends' Miis like a social network.
But for all its greatness, Nintendo is no stranger to misfires. The company has produced its share of disappointments over the years, but it always seems to rebound. So in the hopes that they'll do just that, here are 10 ideas for better mobile apps than Miitomo.
1. Super Mario
Let's just start with the most obvious idea. A side-scrolling, platformer Super Mario game would translate pretty well to mobile devices, and it would most likely become the most popular app in the market.
2. Donkey Kong
Pretty much any Donkey Kong experience could enjoy similar success to a Super Mario app, though it would be really cool to see Nintendo go all the way back to the original Donkey Kong arcades. Those games were not only simple enough from a control standpoint to translate well to mobile, but their pixellated quality fits in pretty well with some hot design trends in app gaming.
3. Pokémon Red/Blue
Yes, Pokémon Go is an interesting idea. But has there ever been a Nintendo game that seems more like a mobile app already than the original Pokémon Red/Blue titles? Built for Gameboy, these games were exceedingly simple from both a visual and a control standpoint. Not to mention they were some of the biggest sensations in video game history. Pokémon Mobile could be the most lucrative app in history if Nintendo decided to go for it.
4. Super Smash Bros.
There are countless mobile games that have adopted the fighter style, pitting foes against each other in simple, swipe- and tap-based combat. It wouldn't be as sophisticated as Super Smash Bros. games on consoles, but the general format adapts well to mobile.
5. Mario Golf
This game is too often overlooked among other great N64 titles. However, IGN pointed it out in a post about Nintendo franchises that would be great on mobile, and I have to agree. The article made a few wise points about this one. First, you could load up, play a few holes, and come back later, which satisfies the desire for quick gaming sessions. Second, there could be a connected leaderboard feature to satisfy more competitive gamers.
6. Mario Kart
Mario Kart would surely be a hit, even if racing games are a little bit hit-and-miss on mobile. Even if this were done clumsily, people would love the chance to play one of the most iconic Nintendo franchises on mobile.
7. Nintendo Bingo
If Nintendo wants to keep things simple, they could look for a gaming format that allows for the placement of popular themes and characters but doesn't actually adapt an established title. Bingo is an interesting option in this regard, as there's a strong precedent for similar games. There are several themed titles at Gala Bingo that are available on mobile platforms and that appeal to fans of various TV shows and the like. Nintendo could do the same with their own themes and characters, using simple backgrounds, cards, and character callers to create a simple, albeit satisfying, experience.
8. Nintendo Poker
Everything I said regarding bingo would also work well with poker. These types of casino games are well established in mobile markets and don't require a whole lot of invention to embrace themes. It would be particularly cool if a poker game allowed you to use Nintendo characters as your own avatar (you know, instead of a Mii…).
9. The Legend Of Zelda
You didn't think I'd forget Zelda, did you? These games have covered a pretty broad spectrum of styles over the years, but some of the earlier Zelda games are every bit as simple in look and gameplay as Pokémon and could adapt very well to mobile. Indeed, it's been tried by other companies, so frequently that Games Radar wrote up a list of 10 games that have blatantly ripped off Zelda.
10. Super Mario RPG
Possibly the most underrated Nintendo game in history, this SNES title was an extensive RPG that utilized a really interesting cast of Mario characters we just haven't seen very often elsewhere. There's endless evidence that RPGs work pretty well on mobile, and a Super Mario RPG comeback would be a stroke of brilliance by Nintendo.
This list could keep going and going, but you get the idea. The good news is that Miitomo is viewed as just the beginning for Nintendo's foray into mobile markets, so let's hope they get moving with some more interesting ideas.
You can follow any responses to this entry through the RSS 2.0 feed. You can leave a response, or trackback from your own site.