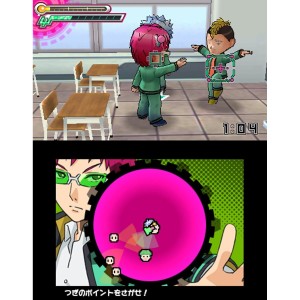 Fans of psychic photographer Saiki Kusunoki Takeshi will get the chance to step into their hero's shoes very soon. A 3DS game based on the manga/anime character is due on November 11th. You'll get to hang out at the local school and participate in activities ranging from garbage collection tournaments to school trips. You'll be able to call on a range of powers including telepathy, telekinesis and psychic vision. Who wouldn't want that? You'll also be able to explore Okinawa and hurl cars around.
The game looks like a cross between Bully and Skool Daze but with the added bonus of psychic powers. Might well be worth checking out.
Published by Bandai-Namco, Saiki Kusuo no Sainan Shijou Saidai no Saina will retail for Y5700.
Get this game on play-asia.com
You can follow any responses to this entry through the RSS 2.0 feed. You can leave a response, or trackback from your own site.