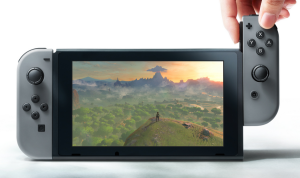 Nintendo just revealed details of their new hybrid console and in good news for expat gamers, the system will be region free, meaning you'll be able to buy games from wherever you like.
We got a look at several launch games, including a long trailer for the impressive looking Zelda – Breath of the Wild. A new Mario game for the system, Mario Odyssey, looked intriguing, appearing to be set in an open world city with realistic citizens walking around. Grand Theft Mario, anyone? We also saw footage of Splatoon 2, which looked good. Other confirmed games included Xenoblade Chronicles 2, Skyrim, FIFA soccer, Ultra Streetfighter 2, Steep, Minecraft, Arms – a motion controlled boxing game and several others.
Just five titles will be available at launch, Zelda, 1-2 Switch, Super Bomberman R, Skylanders Imaginators and Just Dance 2017.
Launch price will be Y29,980 which has raised a few eyebrows, but is slightly less than the Wii U Premium bundle. Peripherals do seem expensive with the pro controller going for $70 and the Joy-Con going for $50 each ($80 for a pair).
There will also be a subscription model for online play which is a shame, but it is worth pointing out that Wii U multiplayer performance is rock solid and the infrastructure for that doesn't come cheap. There was some mention of a smartphone or device being used for online features, but we're not yet clear on how that will work. Apparently subscribers will be entitled to play a single NES or SNES game each month, but it isn't clear they'll be able to keep it. Compared to the generous bundle of games offered with Playstation and XBox subscriptions this does sound somewhat Scrooge like. Overcharging for their retro content on modern system has always seemed a bit of an own goal for Nintendo but we'll have to wait to see exactly what's on offer before passing judgement on this.
All in all though we're pretty pleased with this. The games look good, it's region free and it seems to have a bit of third party support. Roll on March 3.
You can follow any responses to this entry through the RSS 2.0 feed. You can leave a response, or trackback from your own site.