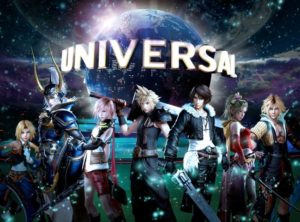 Universal Studios Japan will be adding more gamer friendly attractions in 2018. Final Fantasy will be joining the party, with the focus rumored to be on Final Fantasy VII.
Not content with making Nintendo fans dreams come true, next year's 'cool Japan' line up will feature Final Fantasy and Sailor Moon attractions. These will be joined by Detective Conan and Monster Hunter, both of which have featured previously at USJ.
The first attraction we've heard about is a mixed VR roller coaster experience that will take players on airships through various final fantasy worlds. We're not sure what exactly a mixed VR experience will entail. Will we be riding a coaster with a VR headset, or will the VR section take place before the ride? Some of the USJ rides use 3D goggles to enhance the experience but VR will be a first for us and we're looking forward to checking it out next year.
You can follow any responses to this entry through the RSS 2.0 feed. You can leave a response, or trackback from your own site.