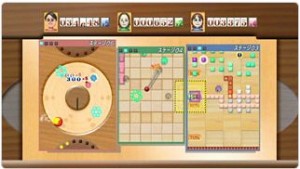 Nintendo announced a surprise Wiiware release for next week. Maru Bou Shikaku or circle, stick, square, will come out on October 10th and features three different puzzle sets based on the eponymous shapes. From what we can see of the game, the circle section involves a large swinging pendulum, the stick section is a kuru kuru kururin like dodgefest and the square section might possibly be some kind of Arkanoid clone.
What looks interesting is that players will be able to join with a pair of friends and play all three game types at once. If there's some kind of interaction between the different puzzles then this could be a good party game.
Might be worth checking out, although we're still waiting for Lost Winds to come out in Japan. Come on Nintendo, sort it out.
[Read]
You can follow any responses to this entry through the RSS 2.0 feed. You can leave a response, or trackback from your own site.