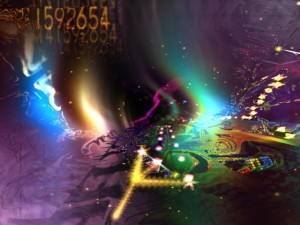 The magnificent piece of psychedelic genius that is Space Giraffe has just been released for PC. There are a few gameplay enhancements plus the option to use toned down visuals for those weak minded fools who found the original too difficult. There's now a gameplay guide on the Llamasoft website to help you out if things get too tough. This is a very difficult game but it is full of charisma and one of the most original games on the marketplace – heartily recommended for those of you with the skillz to handle it.
The original Space Giraffe is still available on Xbox 360 for a meagre 400 points.
[Read]
You can follow any responses to this entry through the RSS 2.0 feed. You can leave a response, or trackback from your own site.