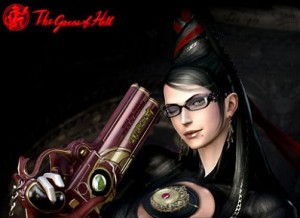 Bayonetta hype is starting to build as the game nears its autumn release. Designer Hideki Kamiya has a history that includes Okami and Devil May Cry, so our hopes are very high for this.
Kamiya-san has promised to "blow the doors off the action genre". The eponymous heroine is a shape shifting witch who backs up her magic attacks with a cornucopia of firearms and heavy weapons. As with Devil May Cry skilled players will be able to rack up the damage with spectacular combos and special moves. Fallen enemies drop halos that can be exchanged for bigger and better weapons.
Bayonetta launches in Japan on October 29th for Playstation 3 and Xbox 360, price Y7980. North American and European release is expected to follow in January.
[Read]
You can follow any responses to this entry through the RSS 2.0 feed. You can leave a response, or trackback from your own site.