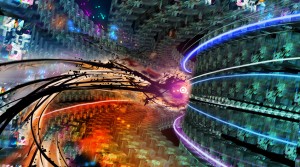 One of the coolest looking new games at the recent E3 show was Child of Eden. A spiritual successor to the seminal Rez, Child of Eden will allow players to interact with musical rhythms via Kinect.
As with Rez, players will come under attack from various surreal creatures which can then be shot, resulting in new beats and riffs being merged with the game's music. This time around they will be able to aim with their arms thanks to Kinect's motion detection. Standard controllers will also work, but it sounds like the experience is the perfect showpiece for Microsoft's new peripheral.
Child of Eden is expected in 2011, for Xbox 360 and PS3.
You can follow any responses to this entry through the RSS 2.0 feed. You can leave a response, or trackback from your own site.